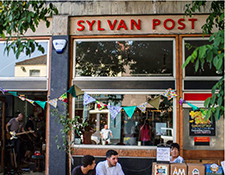 Once a Post Office, the Sylvan Post is now a vibrant part of Forest Hill life. Original 1960′s Post Office features, low lighting and the Antic 'vintage charm', the Sylvan Post is a quirky yet traditional pub. An ever changing ale and bottled beer selection, embraces the well known to the obscure so you are never short on something new to try. Why not bring the whole family down (including your dog!) for an evening of lovely grub, fine beverages and some great company.
* * *
The adjective sylvan refers to a shady, wooded area. The word suggests a peaceful, pleasant feeling, as though you were far away from the noise of modern life.
As a noun, sylvan means a being that inhabits the woods. The Roman god of woods and fields was known as Silvanus. The adjectival use of the Middle French word sylvain evolved in the mid-16th century. The word is most often used today to describe an idyllic wooded area.